Venue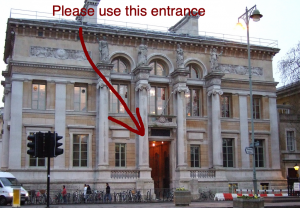 The Connected Past conference (6-7 December 2018) will take place at the Taylor Institution, at the very heart of Oxford next to the Ashmolean Museum. Please enter via the ceremonial entrance to the left of the main library entrance.
Taylor Institution
St Giles'
Oxford
OX1 3NA
The Connected Past workshop 4-5 December 2018 will take place at the History Faculty.
All conference and workshop venues are included on the map below:
Taylor Institution (A): Conference venue 6-7 December
Taylor Institution, St. Giles, OX1 3NA
History Faculty (B): Workshop venue 4-5 December
41-47 George St, Oxford OX1 2BE (entrance around the back)
Trinity College entrance (C): Wine reception 6 December
Broad St, Oxford OX1 3BH (enter porter's lodge)
Train station (D); Main bus station for airport buses (E)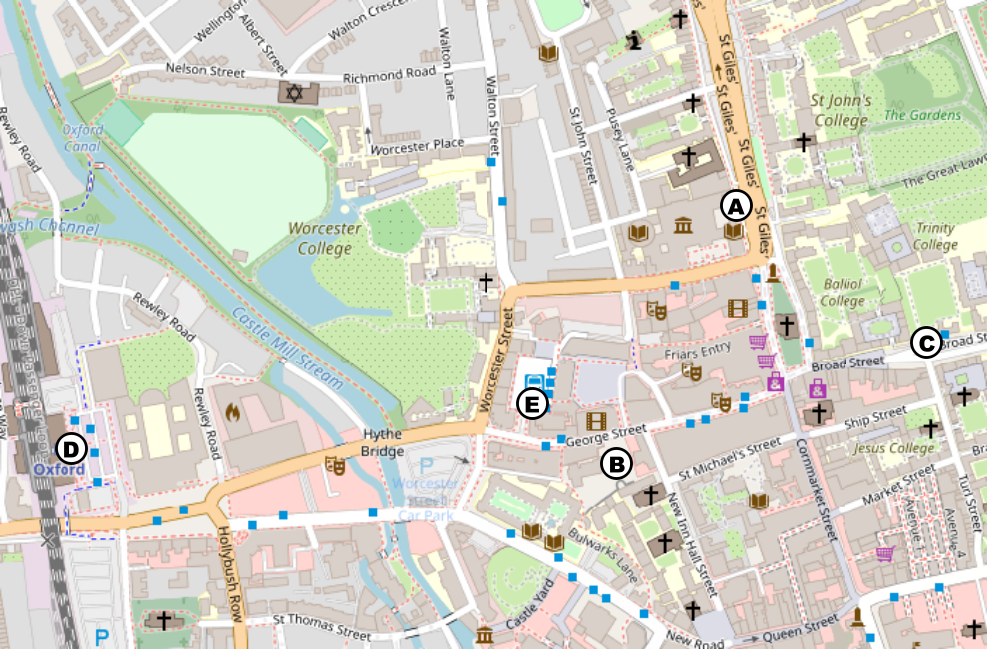 Accommodation
Given our central conference venue, any hotel or hostel in the centre of Oxford will be well-located. Here are a few hotels and hostels nearby:
Travel
The conference venue is in walking distance from the Oxford train station and the central bus station (Gloucester Green).
If you are flying in from abroad, the closest international airports are London Heathrow and Birmingham International.
From London Heathrow you can take a National Express or Airline bus to Oxford which takes about 1.5hr depending on traffic. The bus will drop you off at Gloucester Green bus station from where you can walk to the venue in 5 minutes.
From Birmingham International you can take a direct train to Oxford each hour, which takes just under an hour. From the Oxford train station you can walk to the venue in 15 minutes.